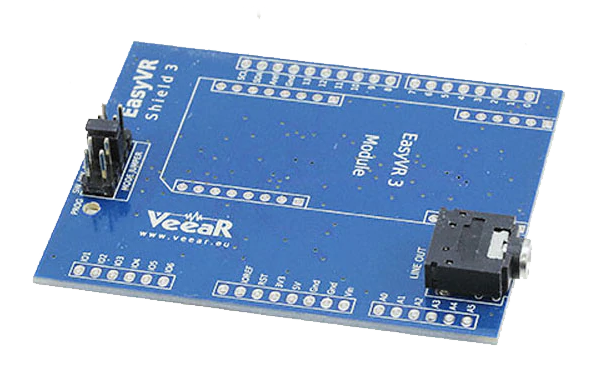 The EasyVR Shield 3 is an adapter board for the EasyVR 3 Plus module, designed to simplify its use among the Arduino community.
The Shield is compatible with any Arduino board using UNO-R3 Shield headers, running at either 3.3V or 5V levels, by using the IOREF pin to select the EasyVR operating voltage. It is also backward compatible with earlier Arduino boards that don't have the IOREF pin, which are using 5V I/O levels by default.
If your board does not have the IOREF pin but it is running at 3.3V, you can still operate the EasyVR Shield 3 correctly if you manually connect pins IOREF and 3V3 together, for example with a jumper wire.
The board comes with separate Arduino stackable headers for the Shield interface. The EasyVR 3 module is also provided separately.
Compatible with Arduino boards that have the 1.0 Shield interface (UNO R3) and legacy boards including, but not limited to:

Arduino Duemilanove

Arduino Uno

Arduino Mega

Arduino Leonardo

Arduino Due

Supports 5V and 3.3V main boards through the IOREF pin

Supports direct connection to the PC on main boards with a separate USB/Serial chip and a special software-driven "bridge" mode on boards with only native USB interface, for easy access by the EasyVR Commander

Enables different modes of serial connection and also flash updates to the embedded EasyVR module (through the Mode Jumper)

Supports remapping of serial pins used by the Shield (in SW mode)

Provides a 3.5mm audio output jack suitable for headphones or as a line out
The EasyVR Shield 3 Adapter can be purchased as part of the EasyVR 3 Plus + Shield adapter Bundle.