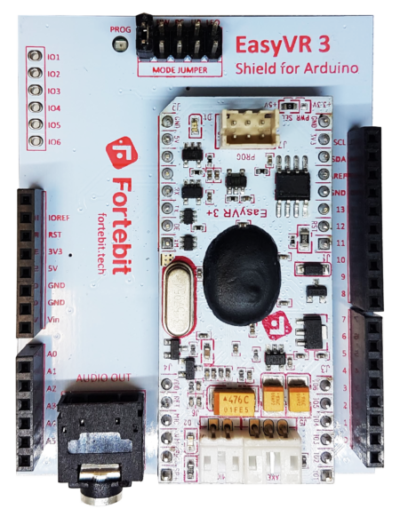 EasyVR 3 Plus Shield for Arduino
The EasyVR 3 Plus Shield for Arduino is compatible with any Arduino board. It includes the EasyVR 3 Plus module AND the Arduino Shield adapter.
EasyVR 3 Plus is a multi-purpose speech recognition module designed to easily add versatile, robust and cost effective speech recognition capabilities to almost any application.
The EasyVR 3 Plus module can be used with any host with a UART interface powered at 3.3V – 5V, such as PIC and Arduino boards. Some application examples include home automation, such as voice-controlled light switches, locks, curtains or kitchen appliances, or adding "hearing" to the most popular robots on the market.
The EasyVR Shield 3 is an adapter board for the EasyVR 3 module, designed to simplify its use among the Arduino community.
€39.00 Excl. VATAdd to cart
The Shield is compatible with any Arduino board using UNO-R3 Shield headers, running at either 3.3V or 5V levels, by using the IOREF pin to select the EasyVR operating voltage.
It is also backward compatible with earlier Arduino boards that don't have the IOREF pin, which are using 5V I/O levels by default.
If your board does not have the IOREF pin but it is running at 3.3V, you can still operate the EasyVR Shield 3 correctly if you manually connect pins IOREF and 3V3 together, for example with a jumper wire.
The board comes with separate Arduino stackable headers for the Shield interface. The EasyVR 3 module is also provided separately.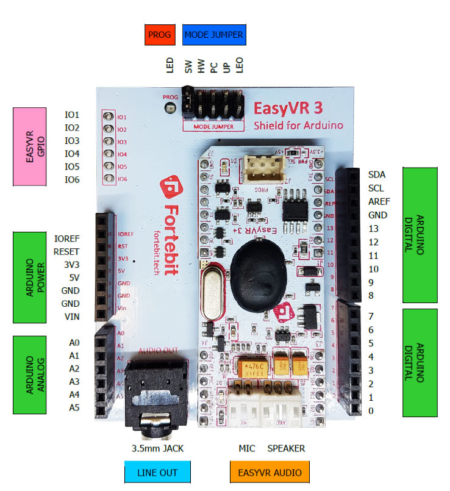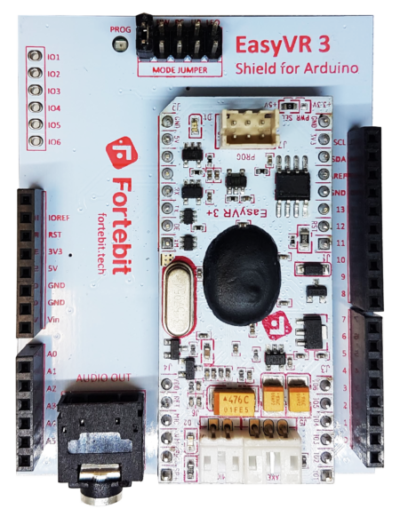 Compatible with Arduino boards that have the 1.0 Shield interface (UNO R3) and legacy boards including, but not limited to:

Arduino Duemilanove

Arduino Uno

Arduino Mega

Arduino Leonardo

Arduino Due

Supports 5V and 3.3V main boards through the IOREF pin

Supports direct connection to the PC on main boards with a separate USB/Serial chip and a special software-driven "bridge" mode on boards with only native USB interface, for easy access by the EasyVR Commander

Enables different modes of serial connection and also flash updates to the embedded EasyVR module (through the Mode Jumper)

Supports remapping of serial pins used by the Shield (in SW mode)

Provides a 3.5mm audio output jack suitable for headphones or as a line out
NOTE:
The headers are not assembled and need to be soldered. The EasyVR board must be soldered on the Shield adapter as explained on the User Manual.
The microphone and the speaker wire with connector are delivered along with the board, the speaker is not included.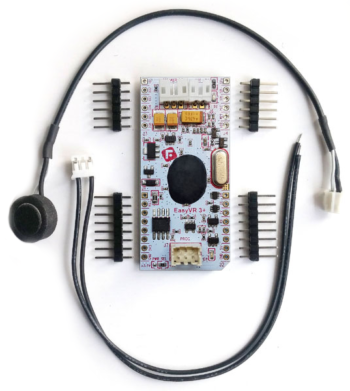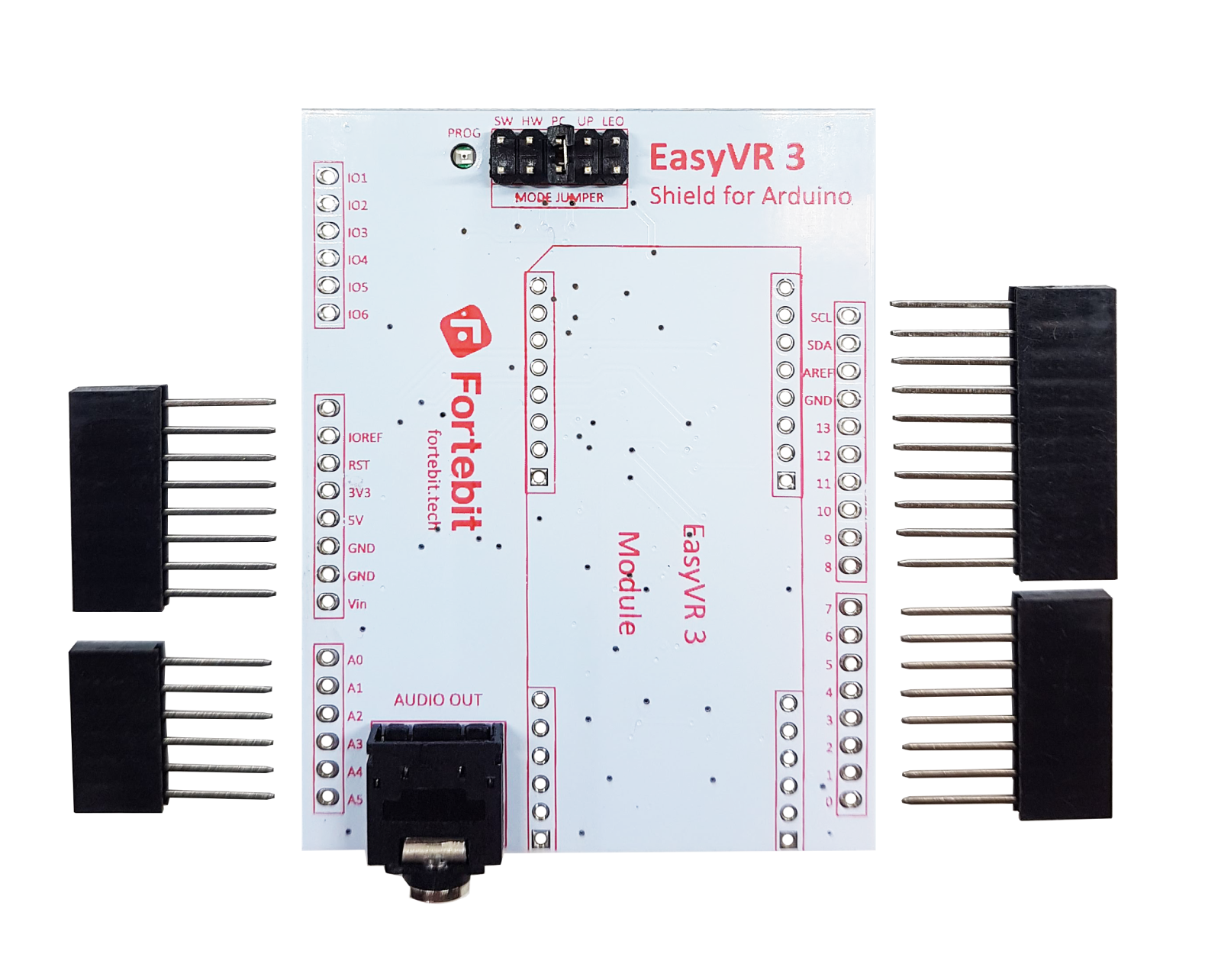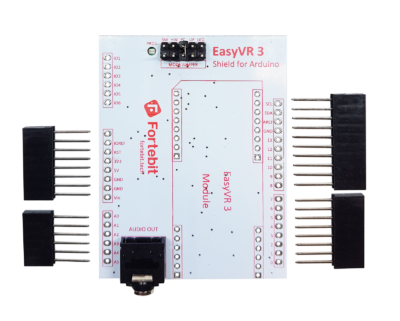 EasyVR 3 Plus can be easily plugged into a solder-less breadboard or standard prototyping board, and it is compatible with the mikroBUS™ specifications (see www.mikroe.com/mikrobus).
Separate male headers are provided inside the package, along with a microphone cable assembly and speaker wires (loudspeaker not included).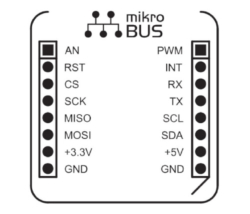 SonicNet™ technology for wireless communications between modules or any other sound source (Audio CD, DVD, MP3 Player).

Up to around 21 minutes of pre-recorded sounds or speech

.

Up to about 137 seconds of live message recording and playback

.

Real-time Lip-sync capability

.

DTMF tone generation.

Differential audio output that directly supports 8Ω speakers.

Easy-to-use Graphical User Interface to program Voice Commands and audio.

Standard UART interface (powered at 3.3V – 5V).

Simple and robust documented serial protocol to access and program through the host board.

6 General purpose I/O lines that can be controlled via UART commands.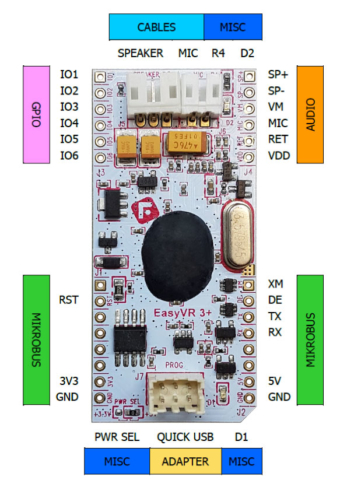 SD/SV commands are entirely user-defined and they are intended to work only with the voice that trained them. SD only tries to match the trained words, while SV also tries to match the characteristics of the voice and to prevent use by unknown people (voice password). Up to 64 SD commands available starting with firmware Revision 5 included in EasyVR Commander v3.13.0 .
SI commands are meant to work with any people in the same language group and do not require training. A few pre-defined commands can be directly used, while additional commands can be created with a QuickT2SI™ Lite license (sold separately).